It's Time Eric Church Is Named Entertainer of the Year
Entertainer of the Year has always been a coveted, yet unique award category. The criteria that the category is judged on, includes many areas that are based on personal opinion of the voters. That being said, I personally believe it's time that the voters use those votes in favor of Eric Church in 2019. I say that with absolutely no disrespect for any other artist, but it's my belief that he's doing things we haven't seen before, and they all exemplify what it means to be Entertainer of the Year.
Eric is currently out on his Double Down Tour, a tour which he doesn't have an opener, and where he plays three plus hours of music in one city on back to back nights. Oh, and he changes the setlist every night. Back in May it became the best-selling tour on the planet according to Pollstar, topping their LIVE75 and Global Concert Pulse Chart's.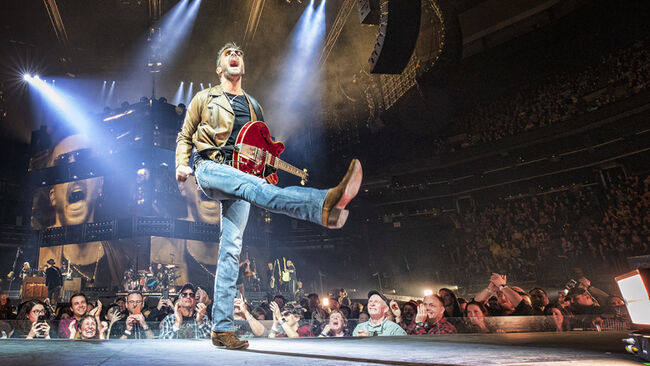 When it came time for Eric to take the stage at CMA Music Festival in Nashville last weekend, he walked out just him and a guitar, and proceeded to play an unrehearsed acoustic 30-minute song, that included 17 different hits that ended up being one of the stand out moments of the weekend.
The CMA Music Festival performance came just days after Eric did something no other artist had ever done, he headlined Nashville's Nissan Stadium without an opener, and broke all attendance records for the venue. He played almost four hours of music and just under 40 songs for the 56,521 fans in attendance.
"I came here 15 years ago and I had dreams," he explained of Nashville to his loyal Church Choir, "but I'm not sure I could dream this big. Tonight is a special night for me and you know this if you've been to any of our shows on the Double Down Tour… I'm gonna give you everything I've got all night long, and tonight is going to be a revival. I promise you."
Before he closed out the show in Nashville he told the fans, "This night for me has been the most special thing of my entire career — to see this and to see what this is," he said. "To see people come to this town…it was almost like a damn resurgence, it was the greatest thing ever just to take over this town in the spirit of music. We don't have the most No. 1s, we don't sell the most albums, but this happens anyway. In my opinion, that's because of passion. We have passion for what we do."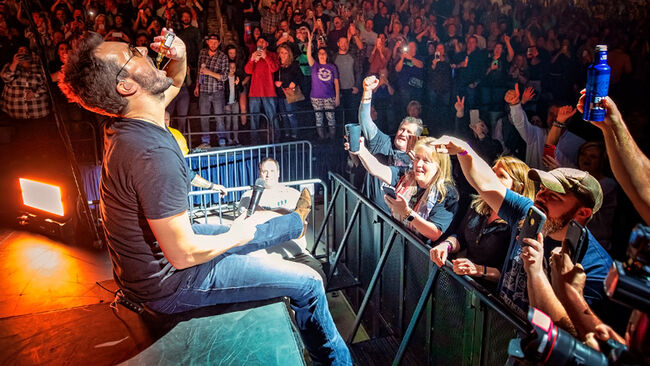 That passion is something that has been in Eric's blood from the very beginning of his career. During his Double Down Tour stop in Greenville, SC, I was able to catch up with him, and really dig into what this tour has been like, and why they are doing things the way they are right now.
"I think our entire career has been built on just out working everybody. Even early on when we didn't have a lot of success at radio and stuff like that, I just told the band and crew, we're going to out work them. If they play two shows we're going to play five. If they play an hour, we're going to play two."
That work ethic is absolutely apparent in this tour.
A word that I would use to describe every aspect of Eric's career and this tour is intentional. Eric and his entire team are meticulous at making sure every finite detail is thought through and executed flawlessly. From that fan experience, to the production, and even the setlist, but for this tour it's not been easy.
"It's been the most difficult thing I've ever done. When you think about it, it's actually four sets. There's a first set on a Friday, there's halftime, then there's a second set. On Saturday, there's a different first set, a halftime and a different second set. So what's interesting, if you come on Saturday, you might not get to hear your all-time favorite song, because I played it on Friday. So it's been hard. I want to give them what they want to hear, but I also want to give them a lot of songs."
Eric went on to say, "I'm not sure I'll do it again, but it's been fun for the people that come to both night's, that do Double Down, they get more out of it than anybody. To me, that's what it was for. It was about those people that were the hardcore fans that come to both nights."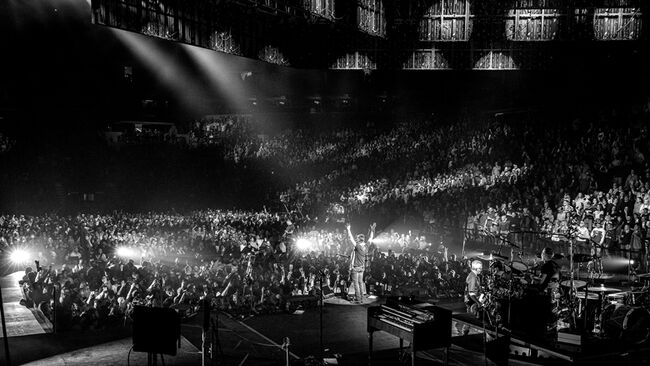 Eric is one of the most passionate music fan's you'll find. Since we've never seen anyone do a tour like this before, I had to know which if his music Idols he would love to have seen do a show like this themselves.
"There's a few, I can't give you one, but I'll give you a couple. I'd love to have seen Billy Joel do this because I think he's one of the most under rated artists we have. Then Bruce (Springsteen). Bruce does it pretty much, but to see a couple shows (back to back) with knowing his catalog the way I do, if you give me 6 1/2 or 7 hours of Springsteen, what we could have gotten into from some of the back catalog."
Eric then paused and said, " That's been the nuance for me, you've got these fans that are your hardcore that know all the back catalog, but then you've got other people there that are like, I'm not sure I know this. It's been interesting in an arena setting, to keep them doing what I want, it's been a challenge, but the most fun I've had."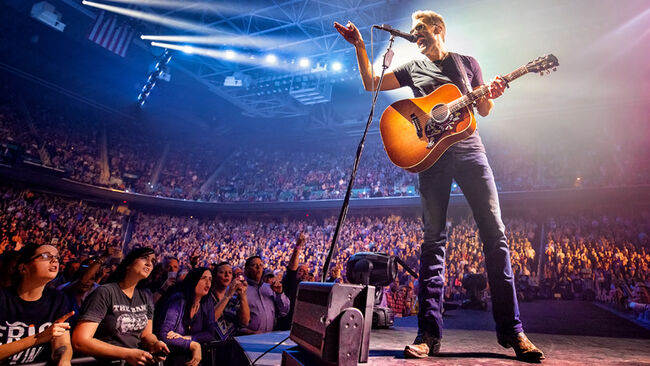 As someone who's watched Eric's career from the beginning, from playing radio shows when just a few people showed up, to doing his Carolina album release party in a Wal-Mart, and now selling out shows all over the country, it's been special to watch.
When it comes to Entertainer of the Year, everyone has their own definition. The CMA Awards define it one way, the ACM Awards define it a different way, and each fan or music critic will have their own personal opinions. So, how does Eric Church define Entertainer of the Year?
"To me, what is your show like? What are you putting into the show? I think for us, you get everything. We're going to give you everything we've got, we're going to play for hours. We're going to play different sets, we're going to play different songs nightly. It's about what the experience is like for that fan that's coming to the show, is the way I describe it. If you've got the same setlist every night, and you're playing 100 minutes, and you're playing the same songs, and talking at the same spots, and you've have the same script. In my mind I don't care how popular you are, that's not Entertainer of the Year to me. Entertainer of the Year to me is someone who's trying to make each show a unique experience for the fan. When these people leave every night, that's a win for me. Because I know what we share when they walk out. No trophy is every going to replace that. As far as that (winning Entertainer of the Year) goes, I don't worry about it too much, I just try and make sure those people, when they leave, they will never forget what they went through."
Entertainer of the Year.